Meet Dr. Glenn P. Sorrentino
Clinic Director 
Dr. Sorrentino's extensive knowledge, friendly demeanor and unique treatment approach have made him a patient favorite. His passion and commitment are evident in the success stories of his patients, many who thought their cases were hopeless.
A body biomechanics expert, Dr. Sorrentino explains that pain in one area is often "the result of imbalance or weakness" in another area. "For example, knee pain is often caused by the hips being out of alignment, and shoulder pain almost always has a neck component."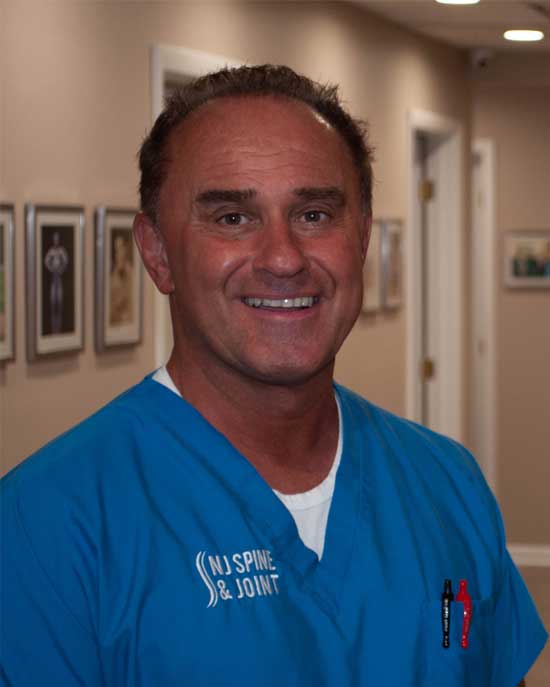 Specialized Treatment Protocols
Dr. Sorrentino and the NJ Spine & Joint team use an integrated treatment approach to get the best results. The protocols, which are customized for each individual, utilize the safest and most advanced non-surgical technologies and treatments available. 
"We have many patients who have been in pain for years and have tried other therapies, and they are amazed that their pain actually goes away with our treatments," says Dr. Sorrentino, who leads the talented NJ Spine & Joint multi-specialty team. "It's important for patients to understand what's causing their pain and how our customized treatment protocols can help them."
Dr. Sorrentino treats patients of all ages, including many high school and college athletes who are benefiting from cold laser, which is the exact same technology widely used by professional sports teams.
"Our philosophy at NJ Spine & Joint is to get to the root of a patient's problem rather than just mask the symptoms. We want our patients to be healthy and pain-free."
More About Doc
A graduate of the prestigious Life University in Georgia with a Sports Medicine degree from Parker College in Texas, Dr. Sorrentino is a founding member of the Council on Fitness and Sports Health Science for the International Chiropractors Association. He is a member of the International Chiropractors Association, the Association of New Jersey Chiropractors and the NJ Chiropractic Council on Sports Injuries and Rehabilitation.
A recognized speaker on health, Dr. Sorrentino was a champion racquetball player and volunteered as a travel baseball coach for many years. He is an active member of the community and likes keeping fit with gym workouts, biking and outdoor family activities.
Achievements & Education
Doctorate in Chiropractic, Life University
Certified in Sports Injuries, Parker College
Board Certified in Nutritional Therapy, American Board of Nutritional and Naturopathic Certification
Founding Member of the Council on Fitness & Sports Health Science, The International Chiropractors Association
Certified in Structural Management, Structural Management

®

Member, International Chiropractors Association
Member, Association of New Jersey Chiropractors
Member, NJ Chiropractic Council on Sports Injuries and Rehabilitation